Foe Life NEXT Magazine 2023 Calender 発売開始‼
 日頃より弊誌『Foe Life NEXT Magazine』を応援頂き誠にありがとうございます。
今年も"Foe Life NEXT Magazine" 2023年 カレンダーが完成いたしました。
今回のカレンダーは壁掛け見開きA3サイズ全16P(2か月タイプ)。
過去の誌面未掲載ショットから撮りおろしまで、BLUEVELVET OG.多喜氏にアドバイザー依頼した全16P見開き壁掛けタイプの完全オリジナルカレンダーです。
※画像をクリック頂けますと商品ページに移行します。
(マガジンオフィシャルショップ / 移行先:B.B.B. GARAGE WEB SHOP)
 Thank you for your continued patronage of Foe Life NEXT Magazine.
We are pleased to announce the completion of the 2023 edition of the Foe Life NEXT Magazine calendar.
The 16-page A3-size spread wall-hanging calendar features shots that have not appeared in the magazine in the past, as well as newly taken shots.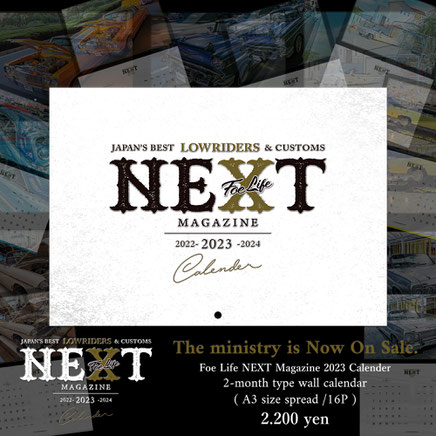 ( 2022.12 - 2023.1:1964 Chevrolet Impala / 2023.2-3 : 1957 Chevrolet Belair / 2023.4-5 : 1962 Chevrolet Impala / 2023.6-7 : 1966 Chevrolet Caprice / 2023.8-9 : Chevrolet Impala / 2023.10-11 : 1955 Chevrolet Belair / 2023.12-2024-1 : Chevrolet Impala / ALL 16P )
 下記よりショッピングサイトに移行してお求めください。
2022年11月26日(土)発売開始‼
【予約】【NEW】Foelife NEXT magazine 2023 Calender
¥2.200-(税込/送料別)
2か月タイプ / 壁掛けカレンダー / 見開きA3サイズ / 16P
2-month type / Wall calender / A3 size spread / 16p
【NEXT Magazine Official Shop】B.B.B. GARAGE WEB SHOP
 現在、編集部では NEXT Magazine Issue #4 発刊に向けて鋭意編集中です。